December 22nd, 2009 by lucas
I've been playing with virtualization, and KVM in particular. However, I'm running into an interesting problem. Below is how Ubuntu Netbook Remix look inside my KVM (either using virt-viewer, virt-manager or directly KVM to display the VM). Note how the top panel is fine. I'm using KVM 88 from experimental (but I had the same problem with KVM 85 from unstable), the cirrus video driver inside the VM, and an up-to-date karmic VM.
Has someone ran into that problem already? If yes, where is it tracked? I'm been failing to find the correct search keywords so far.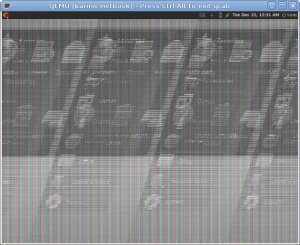 9 Responses to "Debian's KVM + Ubuntu karmic => bug?"
---